Connecting with the challenge of leishmaniasis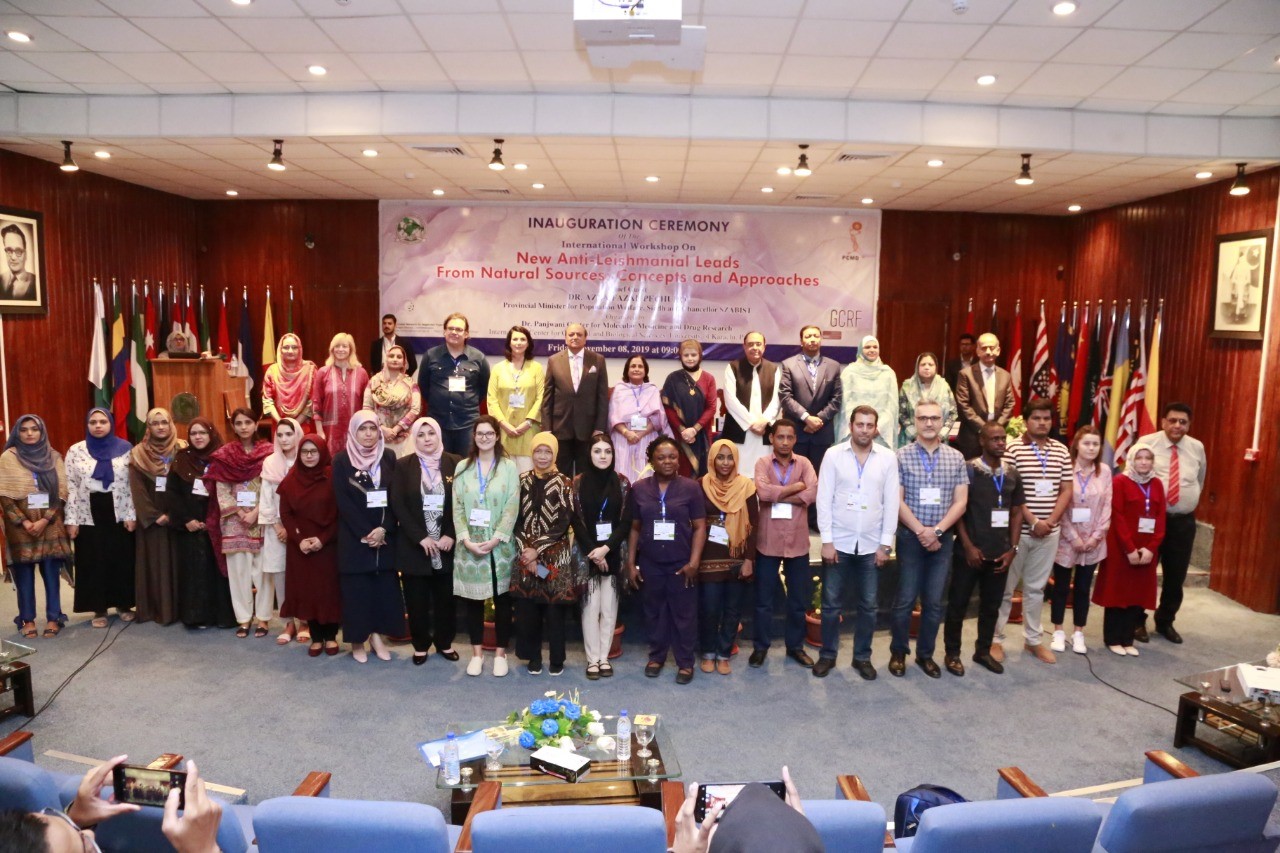 This November, our student training workshop "New anti-leishmanial leads from natural sources", hosted at the International Centre for Chemical and Biological Sciences (ICCBS), University of Karachi, brought together an international team of staff and 30 early career researchers from south Asia and across the Middle East.
For Dr Paul Denny and myself, the visit included a meeting with Dr Bahram Khoso and his clinical team at Jinnah hospital, Karachi; here, the human reasons behind our pre-clinical research became clear, and very real.  Before us stood four children, siblings; each face disfigured by cutaneous leishmaniasis.
This whole family had contracted the disease during a 10-day visit to their grandparents' rural village near the Afghan border.  These brave young patients held us with their eyes, as their doctors explained the painful regimen they have already endured.  One child has not responded to the treatment.  Their clinicians' plea was heart-felt;
"We need effective, safe drugs as creams or in tablet form; treatments that target the disease directly, that our patients can endure… that our country can afford…"
The devastation caused by this disease, and the pressing need for new medicines, is a close reality for most of our workshop students, all from endemic areas.  The training, providing knowledge and techniques for investigating traditional folk medicines as potential sources of new anti-leishmanial drugs, equips these young researchers to identify potential new compound leads using basic laboratory facilities – as are reliably available in their respective countries.
Our Network, funded via the MRC's Global Challenges Research Fund, spans Asia, South America and the UK.  Alongside our research to find drug targets and routes to new therapeutic solutions for leishmaniasis and Chagas disease, we are committed to training the next generation of researchers in developing countries to continue this vital work.  The workshop team comprised Dr Paul Denny and Dr Mags Leighton (Durham University), Dr Bartira Rossi-Bergmann (University of Rio de Janeiro), and Dr Mark Field (University of Dundee), along with our hosts, Professor Iqbal Choudhary and Dr Sammer Yousuf, and their colleagues at the ICCBS in Karachi.  Students received tuition from experts in parasitology, immunology, chemistry, mass spectroscopy and structural biology.
Leishmaniasis: A global problem
The leishmaniases are a family of parasitic neglected tropical diseases (NTDs), spread by biting sandflies, and presenting clinically as either a lethal visceral disease or as non-lethal but devastating cutaneous and muco-cutaneous forms.
Cutaneous leishmaniasis is the most prevalent of the leishmaniases in south Asia and the Middle East.  Cases follow the seasonal dynamics of the sandfly population, which in Pakistan peak between November and February.  Infection rates are highest in situations offering ideal conditions for sandfly breeding, occurring in the damper coastal regions, and in proximity with overcrowding, poor sanitation, and deforestation.  Whilst Karachi sees few cases, Lahore to the north, close to marshy areas and forest, has experienced two major outbreaks already this winter.
Treatment for cutaneous leishmaniasis involves intra-lesional injections with pentavalent antimonials – non-specific drugs whose toxic side effects are themselves lethal for some patients.  But the impact of this disease continues after cure.  The children we met at Jinnah hospital were excluded from school by their teachers, who had assumed that their ulcerations were infectious.  Disease scars also cause stigma, resulting in exclusion from a range of social opportunities from employment to marriage, and impacting mental health.
Potential new solutions from endemic countries
This, our fourth NTD Network workshop, is our first event in Pakistan.  The training brought together students from Iran, Iraq, Turkey, Jordan and Cameroon and from Pakistan's diverse regions. These areas have vast ecological diversity, and long-established traditions of folk medicine, which include remedies for leishmaniasis and other NTDs.
The workshop provided training in ways to investigate the potential of these natural products as sources for new drug compounds.  These low-technology methods require only basic laboratory equipment, available in every student's home institution.  Collaborations, e.g. with the ICCBS here in Karachi, and with other institutions across the NTD Network, would then enable these researchers to take forwards a compound lead through the drug discovery process.
A new cohort of connection
Whilst laboratory skills are vital, these students surprised us with their gratitude for this opportunity – addressing their own unmet need for new academic connections.  For some students, particularly those from countries where international travel is limited by political tension, this was their first-ever chance to meet directly with researchers from outside of their own country.  The workshop was timetabled to follow this year's 7th International Symposium-cum-training course on Molecular Medicine at the ICCBS.  Additional support from the University of Karachi enabled most of our students to attend both events, allowing them to connect with a truly global and multidisciplinary academic community.
We feel proud and hopeful for this brave cohort of young researchers.  They have created their own social media channel as a means to stay in touch after the workshop, and named it "Science for Mankind".  In this and many other ways, they demonstrate their determination to 'be the change' that is needed in their world – a world we all share.
Mags Leighton (Project Officer, NTD Network)