FOURTH COMSTECH-NTD Network Webinar: Understanding the Immunology of Kala-Azar for Innovations in its Elimination and Control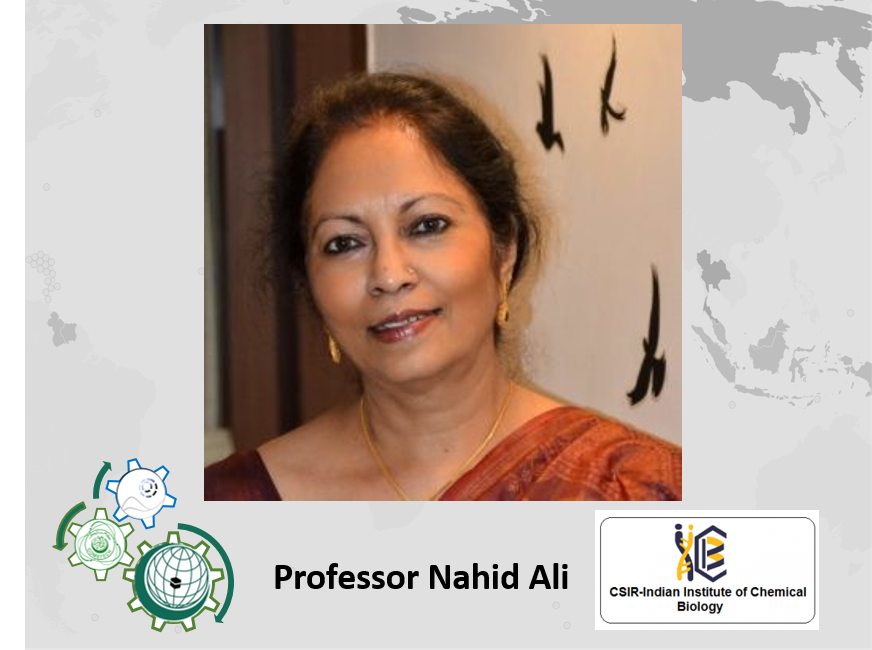 27th October 2021
"Understanding the Immunology of Kala-Azar for Innovations in its Elimination and Control"
ABSTRACT:
Visceral leishmaniasis (VL) is a neglected tropical disease (NTD) accounting for the world's second-highest NTD-mediated mortality, with an estimated 50,000 to 90,000 new cases annually. India alone accounts for 50% of the global VL cases. Considering the growing drug-related toxicities, parasite resistance, HIV-coinfection, the development of an effective vaccine for leishmaniasis remains a global priority. A clear understanding of host immunology and the role of T cells in long[1]lasting memory generation is extremely essential to control hard-to-treat infections like VL. Although human VL is characterized by high Leishmania-specific antibodies, inadequate/ depressed CMI response and lack of protective cytokines are hallmarks of disease progression. Evident from our clinical studies, both CD4+ and CD8+ T cell-mediated IFN-gamma and IL-12 production with concomitant down-regulation of IL-10, TGF-β and IL-35 may eventually lead to a successful cure. Further, the life-long immunity against re-infection and relatively simple life[1]cycle of Leishmania parasites shows the feasibility of vaccine development against this disease. Poor immunogenicity and failure to generate lasting protection are the major obstacles of subunit vaccines against leishmaniases. I would address our continuous efforts to develop DNA and protein-based vaccine candidates to confer desired Th1-biased CD4+ and CD8+ T cell response in preclinical models. Formulations of the liposomal vaccines with other potent adjuvants can promote long-term immunological memory when delivered via human administrable routes. In order to minimize the drug-related toxicities, we have also developed liposomal drug formulations for single-shot therapy, providing dual protection by its antileishmanial and immunomodulatory functions at lower doses. Secondly, in order to alleviate the drawbacks of conventional invasive VL diagnostic methods, we have validated the non-invasive, rapid serum and urine-based ELISA and dipstick assays for the successful diagnosis of this disease.
Our Joint Webinar Programme
NTDs (Neglected Tropical Diseases) are a major health and economic burden in Organisation of Islamic Cooperation (OIC) member states.  The control and elimination of NTDs require a scale-up and integration of global mass treatment programmes, along with new tools and technologies to tackle these diseases.  COMSTECH, in collaboration with A Global Network for Neglected Tropical Diseases (known as the NTD Network, https://ntd-network.org/), is offering this virtual lecture series for researchers across the Islamic world and beyond.
Our programme draws upon expertise from both networks and offers opportunities to gain or enhance researcher knowledge, skills and connections, all of which help to grow our shared global capacity to tackle these rapidly growing NTDs.
The NTD Network, funded by UKRI's Global Challenges Research Fund (GCRF), is a consortium of academic researchers from South America, Asia, and the UK, seeking new therapeutic solutions to leishmaniasis and Chagas disease

Both COMSTECH and the NTD Network aim to promote global scientific cooperation and build researcher capacity to find new and better therapeutic solutions for NTDs
These joint webinars are open to academics, scientists and the general public from all OIC member states.  The content is most relevant to scientists interested in NTDs research and specialising in Microbiology, Genetics, Genomics, Molecular Biology, Molecular Medicine, and Pathology.
For links to all recordings in this series, visit our COMSTECH-NTD Network page: