Making plans for making friends: Pakistan HUB members visit the UK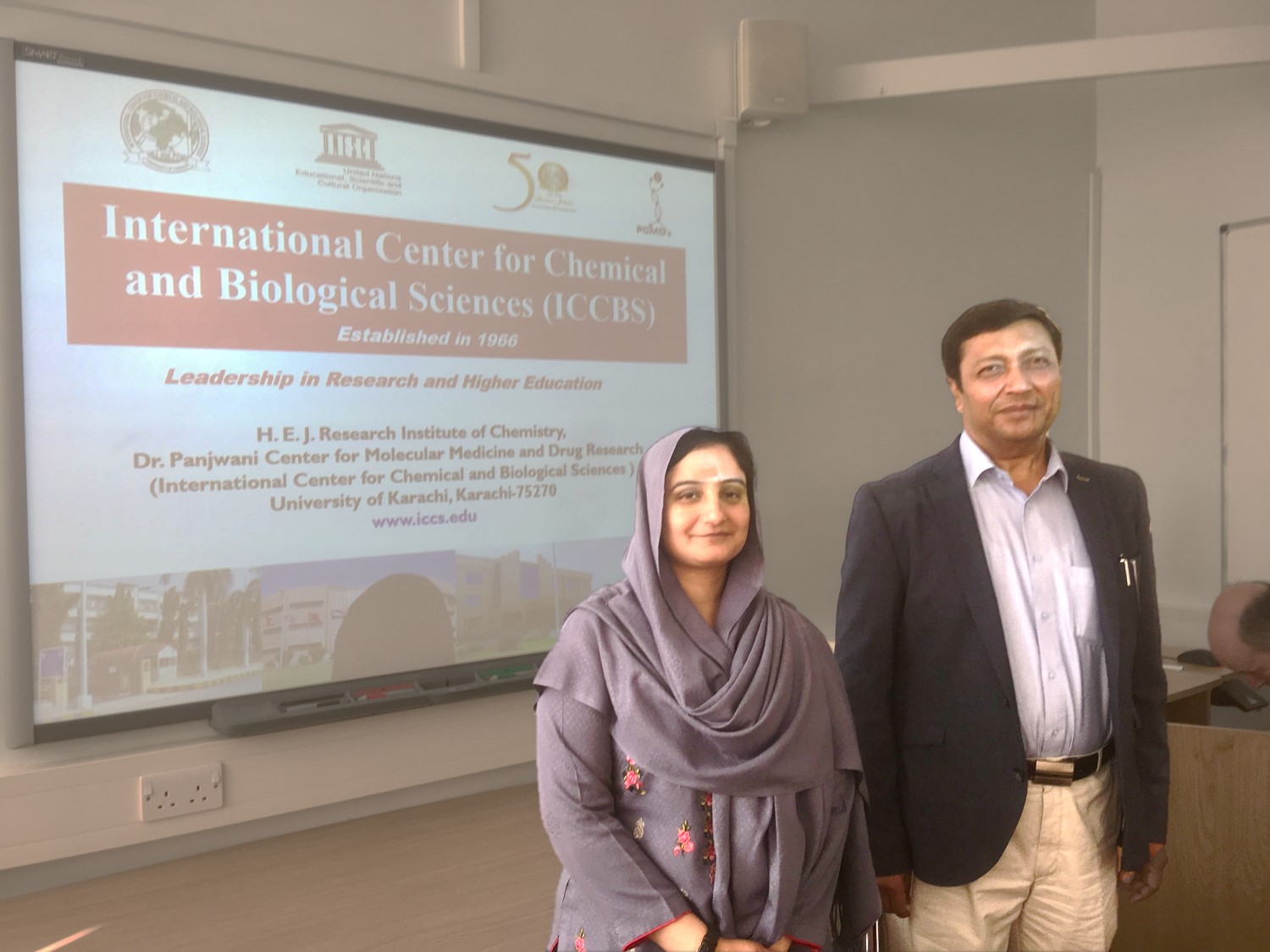 Cutaneous leishmaniasis (CL) is endemic across most of the Middle East, and is currently expanding into new areas.  This August, CL specialists Professor Iqbal Choudhary (Pakistan HUB leader) and Dr Sammer Yousuf, from the International Centre for Chemical and Biological Sciences (ICCBS), University of Karachi, journeyed to connect with colleagues from the Network for Neglected Tropical Diseases (NTDs) in Durham and York.  Their visit consolidated plans for a training workshop, "New Anti-leishmanial Leads from Natural Sources: Concepts and Approaches" at the ICCBS on 8th-9th November, following the "7th annual Symposium on Molecular Medicine and Drug Research" at the University of Karachi, 4th-7th November.  The NTD Network is collaborating with the University of Karachi to support early career researchers (ECRs) from Middle Eastern countries to attend both events.  
Cutaneous leishmaniasis follows in the wake of war
An under-reported epidemic of CL is emerging across the Middle East, in the wake of war.  Since the Syrian conflict began in 2011, over 5 million displaced people,1 some with leishmaniasis, have travelled into and through areas where Leishmania species and the disease they cause are already endemic.  Outbreaks of CL have arisen in Syrian refugee camps in Turkey, Jordan, Lebanon, Iraq, Egypt,2,3 Greece4 and Turkey.5  Other refugees are working illegally in towns and cities across the region, with limited access to healthcare and so are 'invisible' to health statistics. 
An increasingly complex problem
CL infections in refugee camps are caused by Leishmania tropica,6 which is spread between human hosts by the sandfly, Phlebotomus sergenti.  Poor sanitation in the camps provide ideal conditions for these sandflies to breed.  Also, overcrowding enables them to feed from multiple hosts, accelerating the spread of infection.  
L. tropica responds poorly to pentavalent antimonials, the current licensed treatment.7 The haplotypes (genetic forms) of L. tropica isolated from refugees in Greece are similar to isolates from Syria, Afghanistan and Iran,4 and are more treatment-resistant than other L. tropica haplotypes.7 New drugs are therefore urgently needed to expand the clinical options for controlling these and other Leishmania infections.8 
Reaching out towards new solutions
The Middle East region's unique biodiversity and long history of folk medicines means that our Asian academic colleagues are ideally placed to access and investigate their countries' natural products resource as possible routes towards new treatment solutions for CL and other diseases.  However, restricted travel opportunities during times of political tension has had an isolating effect on many Middle Eastern researchers. 
The upcoming NTD Network training workshop, "New Anti-leishmanial Leads from Natural Sources" at the ICCBS in Karachi this November offers a possible solution.  Although travel is restricted from much of the Middle East to Europe and the US, reaching Pakistan is straightforward.  The workshop follows an annual international conference on "Molecular Medicine and Drug Research" at ICCBS.  Iqbal, Sammer, and Drs Paul Denny and Ehmke Pohl from Durham University are using their contacts to encourage early career researchers (ECRs) from across the Middle East to attend both events, connecting them with an international community of researchers, tutors and students.
New beginnings, great hopes
Students from previous NTD Network training workshops in Rio and Kolkata have kept in touch via social media, sharing ideas and initiating new collaborations.  The Karachi workshop team are therefore planning a schedule that will encourage participants to connect both academically and socially.  Paul comments,
"We hope our students will forge new friendships and form a cohort of lasting support across the Middle East and beyond."
However, it is the quality of our friendships and shared passions which determine whether we can really 'be the change' for our world.  New connections between these researchers will offer both great scientific potential, and may also help to rebuild the social infrastructure we need for a more peaceful Middle East.  Therefore, as we prepare for this event, we dare to dream; we choose to hope. 
Mags Leighton
References
BBC News. "Why is there a war in Syria?" February 2019. Available at https://www.bbc.co.uk/news/world-middle-east-35806229 (accessed August 2019).
Al-Salem WS, et al. Emerg Infect Dis 2016; 22(5): 931-933.
Du R, et al. PLoS NTDs 2016; 10(5): e0004545.
Fotakis EA, et al. Emerg Infect Dis 2019; 25(2): 361-364.
Karakuş M, et al. Parasitol Res 2019; 118: 2679–2687.
Iantorno SA, et al. MBio 2017; 8(5):: e01393-e01417.
Hagidhi R, et al. PLoS Med. 2006; 3(5): e162.
Ponte-Sucre A, et al. PLoS Negl Trop Dis 11(12): e0006052.