NTD Network online seminar series continues for 2021!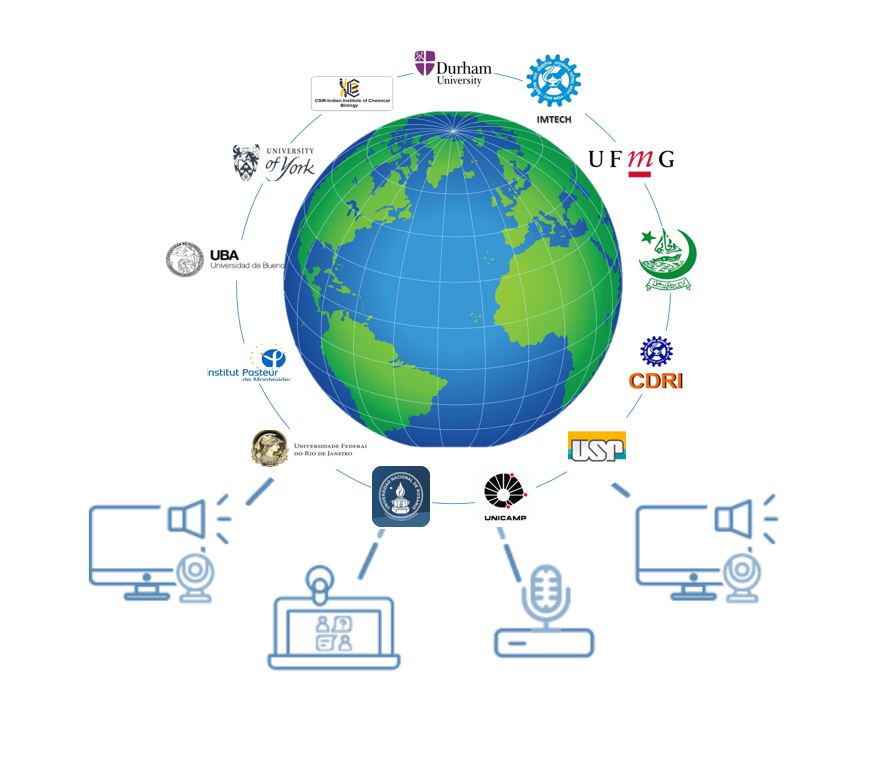 Our NTD Network online seminar series is entering its second year!  Huge thanks to you all who have supported us by attending, and who gave us such encouragement to continue with your posiitve feedback about these talks after the 2020 series.  And please keep showing up – it is great to see all your faces!!  Our programme for 2021 is below: check here for updates!  These meetings are for our Network members and their teams, providing a safe forum to share and discuss data across our projects – watch your inbox for our regular email alerts and zoom links!
SCHEDULE 2021
Meetings are every third Wednesday at 1pm UK time.
NB your local time changes relative to your time zone as we move from GMT to BST!)
Series 3 (March to July 2021)

Date

Speaker

Title

Wednesday 3rd March, 2021

(Business engagement update)

Prof Paul Denny

University of Durham, Durham, UK

Small molecules to natural products, big pharma to SMEs: antileishmanial work with industry

Prof Santuza Teixeira

Universidade Federal de Minas Gerais (UFMG), Belo Horizonte, Brazil

Development of new vaccines and immunotherapy protocols for leishmaniasis

Hosted by Dr Nathaniel Jones

University of York, UK

Wednesday 24th March, 2021

Dr Ashish Arora

Council of Scientific & Industrial Research – (CSIR-CDRI) Lucknow, India

Structure of early endosomal Rab5a of Leishmania donovani

Hosted by Dr Kalesh Karunakaran

Durham University, UK

***NB UK time shifts to BST on 28th March***

Wednesday 21st April, 2021

Dr Julia Cricco

National University of Rosario (UNR), Rosario, Argentina

Heme transport as a target to inhibit Trypanosoma cruzi proliferation: What we learned, and what we don´t yet know

Hosted by  Dr Nathaniel Jones

University of York, UK

Wednesday 5th May, 2021

Prof Jeremy Mottram

University of York, UK

Protein kinases as drug targets for trypanosomatid parasitic protozoa

Hosted by Dr Brian Mantilla

Durham University, UK

Wednesday 26th May, 2021

[POSTPONED]

Dr Sammer Yousuf

International Centre for Chemical and Biological Sciences (ICCBS), University of Karachi, Pakistan

TBC

Hosted by Dr Hachemi Kadri

Durham University, UK

Wednesday 16th June, 2021

Prof Adriano Coelho

University of Campinas (UNICAMP), Brazil

Chemotherapy of leishmaniasis in Brazil: studies on susceptibility and resistance in Leishmania

Hosted by Dr Katrien van Bocxlaer

University of York, UK

Wednesday 7th July, 2021

Dr Pegine Walrad

University of York, UK

Hosted by: TBC

Pursuing trans-regulators essential to parasites
Then a recess (northern hemisphere summer)
Series 4 (October to December 2021)
o   Wednesday October 6th
o   Wednesday October 27th
o   Wednesday November 17th
o   Wednesday December 8th
[Speakers and titles to be confirmed]
For the list of speakers who contributed to our 2020 seminar series, click here.