Extending our capacity: Bringing CRISPR technology to parasitologists in Asia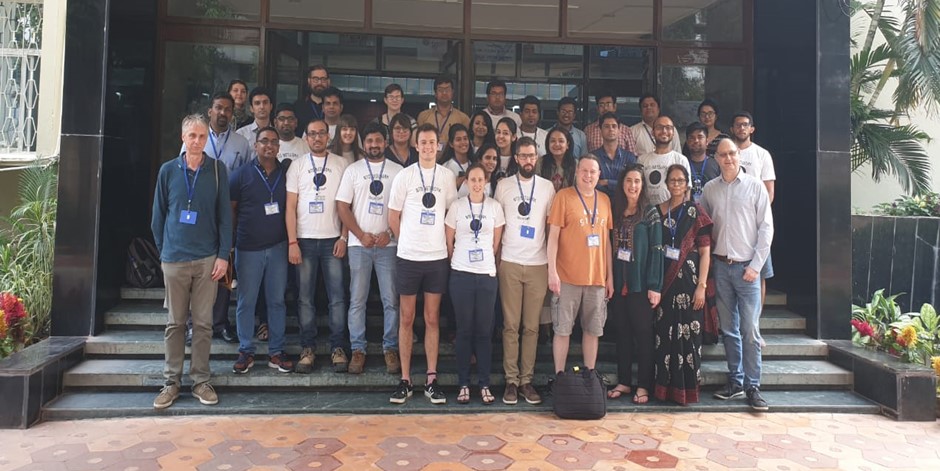 This March, 2019, a diverse group of 28 students gathered at Kolkata's Indian Institute for Chemical Biology, for a workshop providing practical skills in genetic manipulation of Leishmania parasites using CRISPR-Cas9 technology.  These new skills will transform their careers, and in time may improve the lives of people affected by leishmaniasis, a global problem which poses a risk to the lives of millions of people in India and Pakistan alone.
This, our second CRISPR workshop, was hosted by the Network for Neglected Tropical Diseases (NTDs) HUB leader in India, Professor Nahid Ali, and
 

delivered by Jeremy Mottram (University of York) along with experts from India, South America and the UK. The week-long training provides theoretical and hands-on experience in genetic manipulation of

the trypanosomes causing leishmaniasis (known as kala-azar in Asia) and Chagas disease.  Students from the first workshop, held in Rio de Janeiro, July 2018, have reported that their training has both reshaped their careers and changed how they approach their research. The NTD Network are hopeful that gaining these vital skills will prove just as transformative for the new cohort. 
Trypanosome biologists –as 'neglected' as the parasites they study
There is a worldwide shortfall of researchers equipped to investigate the trypanosome parasites Trypanosoma cruzi (causing Chagas disease) and Leishmania spp. (causing leishmaniasis).  CRISPR-Cas9 technology is a vital and necessary skill for studying these NTDs.  Upon completing a secondment with Network partners at the University of York in January, 2019, Nahid's student, Mohd Kamran, became the first – and only – trypanosome biologist in the whole of India with CRISPR-Cas9 experience.  Barely two months later this situation has transformed.
'Invisible' diseases: A global problem
The Global Burden of Disease Study 2017 shows that Chagas disease and leishmaniasis together infected over 10 million people, causing ~16,000 deaths and ~321,000 'years lost to disability'.  However, these figures are likely vast underestimates.
Infections are highest in remote areas where cases are often misdiagnosed and under-reported.  Diseases can be initially symptom-free, or persist 'silently' for years before appearing as sudden heart failure (Chagas disease) or liver failure (visceral leishmaniasis).  Cutaneous leishmaniasis causes disfiguring scars that exclude ~40 million sufferers from opportunities for education, marriage and employment.
Current treatments have limited efficacy, are toxic, and themselves can be lethal.  Even if these medicines were free, the physical cost of enduring the treatment is too high a price for most patients.
Training the new pioneers
The need for safe, effective, alternative treatments, and the global shortage of suitably-skilled researchers, inspired a Global Network for Neglected Tropical Diseases to formulate a programme of research, in order to find new drug targets for Chagas disease and leishmaniasis.  These diseases are complex and persistent, requiring a long-term public health effort.  Part of the vision for the NTD Network is therefore to equip the next generation of researchers in endemic countries with the skills and molecular tools enabling them to respond to these challenges.
The Network's first workshop in Rio, in July 2018, trained 18 students from Brazil, Argentina, Uruguay and the UK to apply CRISPR-Cas9 techniques in Trypanosoma cruzi (causing Chagas disease) and Leishmania spp (causing leishmaniasis) – both endemic in South America.  The focus in Kolkata is Leishmania, found across Asia.  Most students are from India, with additional representatives from Saudi Arabia, Brazil, Germany and the UK.  Sadly, recent political unrest prevented attendance by students from Pakistan.
CRISPR: a game changer
Identifying suitable drug targets in trypanosome parasites is extremely difficult.  Their 'odd' physiology means that many standard genetic techniques simply do not work, making studies slow and laborious.  CRISPR-Cas9 technology revolutionises genetic analysis, allowing rapid tagging, editing or removal of specific genes with exquisite precision, using equipment easily available to researchers everywhere.
Workshop organiser, Professor Ana Paula Lima from the Federal University of Rio de Janeiro, anticipates that CRISPR will transform parasitology;
"I've seen so many enthusiastic young researchers have become frustrated at their slow progress with these organisms.  CRIPSR makes it possible to investigate a whole family of parasite genes at once, or all the stages of a biochemical process…  This changes everything!"
Transforming the approach of our early career researchers
The Network's CRISPR workshops transform the time needed for the adoption of this new technology, by providing practical skills combined with direct access to world-leading, expert advice.
Less than 6 months after the Rio workshop, several students report that their training has both changed the direction of their careers, and transformed the way they approach their research.  Many have shared CRISPR techniques with others at their home institutions.  The cohort keep in touch via social media, exchanging ideas and initiating new collaborations.
The Network team are sure that the legacy from the Kolkata workshop will prove similarly transformative.  Attendee Sarah Smith, from Durham University, is enthused by her experience;
"…this has been invaluable, both scientifically and as an opportunity to meet other young researchers and academics and hear about the fascinating parasitology research elsewhere in the NTD Network".
Jeremy comments;
"CRIPSR genome editing transforms how we identify and validate new drug targets for neglected tropical diseases, such as leishmaniasis.  The workshop in Kolkata provided theoretical and hands-on training in Leishmania gene manipulation, allowing students to extend the technology into their own research programs.  The success of the workshops in Rio de Janeiro and Kolkata are inspiring us to hold further training for researchers from developing countries."